Cherry's Catering turns 20!
We have been privileged to provide event catering for many years.
We must be doing something right to make it to the 20-year mark! (yes – we are now in our 20th year of business!)
So we are very proud to be providing catering all over Perth today. We believe it is not only our delicious food that makes us so successful. It's also our commitment to our clients (nothing is too much for our valued customers) and our wonderful team, many of whom have been working with us for many years and do an amazing job.
By having such a high standard of customer service which is delivered by staff who have been in our team for a long time, we are able to provide service that goes above and beyond, often pre-empting what our clients need before they do!
Come with us as we take a walk down memory lane. View some of our major milestones and highlights at Cherry's Catering over the past 20 years.
A fresh start in the year 2000
Where it all began… Established in 2000 by co-founders Craig & Kate Fraser and Deborah Cunniffe, and located in a custom-built commercial kitchen in Malaga, Cherry's Catering always aimed to serve both northern and southern suburbs with a wide variety of Corporate, Community, and Private Clients. Our catering is fresh and hig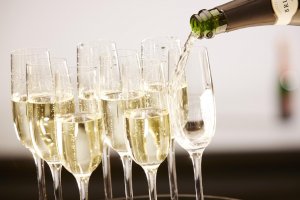 h-quality – we use local produce where possible.
Proudly family owned and operated we are FoodSafe accredited and meet all standards required to hold Gold Licence Accreditation, which was awarded to us by the Restaurant and Catering Association of WA (Inc) in February 2005.
We also hold a Special Facility Licence, having been approved back in 2007, which led to the introduction of our Drinks Packages, to compliment Cherry's food menus.
And we were awarded runner-up for the Tourism & Hospitality Business of the Year – City of Wanneroo Business Awards 2018.
It's been a busy 20 years!
Event highlights
It's hard to pick just a few highlights as the past 20 years have been full of fun, development, and growth. But there are a few events that stick out as some of our favourite moments…
High-profile events 
We've provided catering for many high profile events, with high profile people, including for former Prime Ministers John Howard, Kevin Rudd, Julia Gillard & Malcolm Turnbull – Scott Morrison (ScoMo) you're next 😊
Cherry's & MasterChef
Here we are providing catering alongside MasterChef judge Matt Preston! Bunnings had a competition on a matt finish paint, the store that won (Armadale) got breakfast with Matt Preston, catered by Cherry's – we loved it!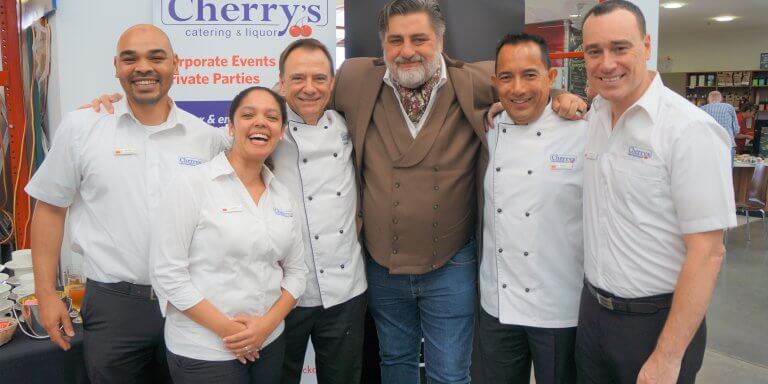 Vroom vroom! 
Cherry's were at the Launch of the V8 Supercar Series in Wanneroo. We loved this fun and supercharged event! The adrenaline was pumping this day, which we think made everyone super hungry 🙂
All Aboard
Cherry's were onboard the Leeuwin Sailing Vessel for Armada Accountants (our accountants) and we loved serving food and drinks to the team on such an iconic vessel.
Lancelin to Cervantes, Indian Ocean Dr
Just hanging out at the opening of the Lancelin to Cervantes, Indian Ocean Dr. Travelling for work is not so bad when you get to see the sights and enjoy sunny weather. We also tailored the food to suit the special location.
Staff Christmas Parties at Sandalford Winery
For the past three years, Cherry's Catering has provided Christmas catering for the staff at Sandalford Winery. We always look forward to this event – and it's lovely to work with long-term clients to provide just what they want.
City of Wanneroo Community Art Awards and Exhibition

We have provided annual catering for the City of Wanneroo Community Art Awards and Exhibition since 2001. Art + food + drinks = a great night out.
Plus…
Catering at iconic venues such as Winthrop Hall UWA, Perth Town Hall, Fremantle Prison, Government House, The Bell Tower… we've done it all and loved every minute.
Thank you to all our staff, and valued clients
Thank you to all our staff who make the team at Cherry's so successful with their hard work. And to our clients, past and present, who have helped make Cherry's Catering one of the most popular Perth Catering companies. Cherry's has a rich and diverse client base that includes:
City of Wanneroo
University of Western Australia
Armada Accountants
Lynn & Brown Lawyers
La Salle College
Rio Tinto
Sandalford Winery
Blue Destiny Charters
City of Perth
City of Swan
City of Bayswater
City of Joondalup
And now?
Want to be part of our next 20 years?!
Book your catering with us – we can tailor our menus to suit and take care of the drinks with our very own Liquor Licence. Visit this page to contact us at Cherry's!