Why such a unique catering name?
We often get asked at Cherry's how much food do we need, dietary concerns, finger food, or a buffet. But one of the most common questions is "how did we come up with the name Cherry's Catering?"
A great question which I am sure you have wondered (and I often wonder myself) – how do businesses come up with their names?
Here is my story:
Did you know…? Cherry's Catering is actually my second catering business. The first was called 'Acacia Catering Service' back in the 90's. My thought process then was a business starting with "A" would be well suited for Yellow Pages, as with a number of other businesses. Well, as you know, how times have changed with technology (i.e. internet, SEO, word cloud etc.) Acacia Catering Service was too long, not punchy or memorable. So when I decided to build a second catering company, I wanted one with a simpler and catchier food oriented name. That part was easy!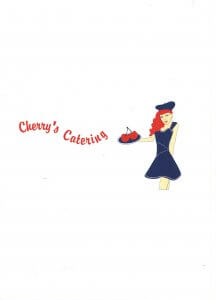 I spent an eternity trying to figure out a name synonymous with food – apples, oranges etc.
All tacky, common, and boring, nothing was standing out to me!
Inspiration finally comes from one of my favourite female artist at the time – Sade and her beautiful song 'Sweet as Cherry Pie'.
I was tinkering around with names like Cherry Pie Catering – (tacky), Cherry Catering (not quite right), nor was Cherries Catering (-ies.).  Determined to somehow use Cherry in the name, finally the idea of Cherry's Catering jumped out at me.
The name is simple, easy to remember, food oriented, with an element of fun. It is part of our unique brand. Of course, there is no actual person called "Cherry". But it does make us smile when new clients ask to speak with "Cherry" please.
A sweet name for you and me!
Cherry's Catering has been around for 20 years now. The name serves us amazingly well and clients always remember the name fondly. 
Going back 20 years, who knows what I was thinking?! Just as how I thought how important for a business name starting with "A". I wanted a classy logo to stick out and nothing said 'class' than a French-inspired Cherry lady holding a platter of cherries. It was silly as neither we nor our food was French inspired. But thinking back now we can all have a laugh. And to be fair this was the Logo that launched Cherry's Catering onto a successful 20-year journey.
Fast forward to the naughties and Cherry's Catering was achieving rapid growth. Along with it came talented people with far superior marketing skills than me who thankfully saw fit to modernise our logo. Over time we decided to give our logo another touch-up without altering it too dramatically so it retains Cherry's simple charm. 
As we often see big brands such as BHP, KFC, Rio Tinto, Coke, and even Banks need to evolve by changing their names, logos, catchphrases etc. I am proud to say, as a family operated local business operating for 20 years, we are growing from strength to strength.
Catering for Perth 
We continue to evolve. Not just with our name or logo but with our food and service. We also evolve our size and type of functions (i.e. weddings, corporate events, private events, citizenship ceremonies etc.).
One thing for certain that will not change for us is our Vision 'To be Perth's most helpful, trusted and service driven caterer'. And our Mission 'Always striving to exceed customer's expectations'. Thankfully, our client's feedback, Google and other social media reviews reflect this!
So, when considering your next catering function, contact Cherry's Catering on 9248 5336 or visit our website https://cherryscatering.com.au.
Craig Fraser
General Manager