Cherry's Catering & Events has had an amazing start to 2019.
Besides our normal corporate and event catering, milestone birthday celebrations, and our usual Friday night dinners at the Wanneroo Sports & Social club, we had our busiest Australia Day to date. It was a day for all Australians, no matter where our personal stories began to reflect on being Australian, celebrating contemporary Australia and recognising our history.
Cherry's catered for five separate events and for over 3150 people, yep you heard right '3150′ people.
Event 1
Cherry's was privileged to welcome over 700 new citizens from 63 different nations at The City of Wanneroo Australian Citizenship Ceremony. This was the largest citizenship ceremony in Australia where Cherry's catered for 2,750 people with a true blue 'Aussie Barbeque Breakfast'. This was the largest number of people Cherry's has ever had to cater for. Notwithstanding, our staff rose to the challenge to make sure it was a truly special occasion for new Australians.
Event 2
Our second function was for The City of South Perth's crew and volunteers, catering for our Australia Day celebrations at Sir James Mitchell Park, on the beautiful and iconic South Perth foreshore. This all day event included lunch, afternoon tea and dinner, with Cherry's making sure all crew & volunteers were well fed and hydrated throughout the day This included riding around on the golf buggy to help deliver food and drink to various zones.
Events 3 & 4
Cherry's didn't just stay on land to help celebrate Australia Day for their clients. With Elite Property Group, they celebrated Australia Day on a boat named 'Australia Blue' (how appropriate) for 20 people, where Cherry's provided a delicious seafood drop off involving crayfish, prawns and alike. Cherry's also helped WA Refuelling celebrate Australia day on another vessel named 'Blue Horizon' for 45 people, dropping off our signature platters to make sure all aboard both vessels could celebrate this special day in style.
Event 5
Our final act was at the Hen House Rehearsal Studios where Cherry's catered for a drop-off buffet for 40 people.
This could not have been made possible without the tireless preparation, dedication and hard work of the Cherry's team, TOP EFFORT!
WEDDINGS
Weddings now seem to be in season for Cherry's, with clients now opting for the more casual but stylish wedding receptions, with cocktail food and drink service, rather than a formal sit down, either at home or at an outdoor venue.
Here are a couple of testimonials we gratefully received from two of the Perth weddings we recently catered for, one of which was at the client's home, that was beautifully decorated, and the second was at the stunning Brookleigh Estate in the Swan Valley
TESTIMONIALS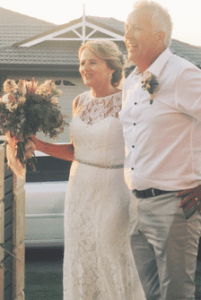 "Thank you so much to the team at Cherry's for making our wedding amazing!! From the very start, to choosing the menu and sampling the food, to the night of our wedding, preparing & serving the food, was totally fantastic!!
It was such a relief to get back to our house, and have all our guests already being catered for, and everyone saying how delicious the food was.
They even saved us a plate, so that we didn't miss out!! 😄.
The staff were all so friendly and professional, I would 100% recommend them to anyone. If anyone has any doubt hiring them above another company, go for it, you won't regret it!!
Thanks to Deb and the team, Gill & Mike x"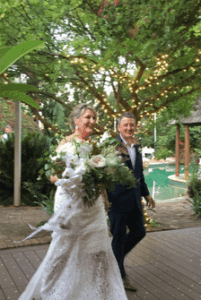 "Deb, Kate and your wonderful staff…we have been well and truly spoilt to have met you months ago after deciding to 'get hitched'…To have you help us plan and coordinate our wedding right to the very end it was an absolute blessing.
Deb, you have been an integral part of our wedding day and to have you there on Sunday was the 'icing on the cake' (if you'll pardon the pun).
The work you and the staff did was outstanding…we wouldn't hesitate in recommending or insisting they use Cherry's in the future.
There are people in life who you gel with instantly…and gladly we can say that…you felt like an old friend rather than a just a caterer.
We have been blessed to have you. Regards, Rob Gordon & Fiona Rodda xxx"
So, if you are planning your next event, why not contact Cherry's Catering & Events on 9248 5336 or visit our website CHERRYSCATERING.COM.AU
Craig Fraser
General Manager