Have you ever hosted an event? Whether it was a small gathering of family and friends or a large-scale corporate event, you'll know just how stressful and exhausting it can be to cater it yourself.
You run around tidying, organising, cooking, serving, only to realise with horror that you've run out of wine, or you didn't prepare enough finger food, or the guests are having to wait for food. The event ends with you feeling frazzled and wondering if your guests had a good time or not.
What if there was a better way to do it?!
Advantages of booking private catering
Here's a different picture…
You book Cherry's Catering and Events for your event, and we take care of not only the food but the drinks as well. We serve your guests (or if you'd like to serve, simply select our drop off platters option) and handle the clean up afterwards, leaving you free to relax and enjoy the event.
You look like the perfect host and your guests have a fab time!
5 ways a caterer can help you plan a memorable event
The advantages of booking private catering are almost limitless, so let's go through the top 5 ways a caterer will improve your event.
1. Amazing food and drinks
Now, we're not saying you're a bad cook. In fact, we're sure you're a great cook!
But at Cherry's we can plan, cook, and serve a vast range of gourmet food. We know secrets of the trade, and we're used to preparing food on a large scale, and making it look beautiful for serving. Our gourmet catering will leave your guests dazzled and satisfied. We take care of all dietary requirements and can cook food separately or serve it individually as required.
Our drinks packages are designed to match our menus perfectly, and they come fully inclusive with professional service staff with Responsible Service of Alcohol certification, as well as glassware and any required equipment. Also, as long as you're also serving food, our Special Facility Liquor License allows us to supply and serve your selected drinks package anywhere that isn't already covered by a liquor licence.
2. Charm them with a professional setup
As professional caterers we know which foods complement others, which drinks pair with those foods, and exactly how much of everything you'll need to cover your guest list.
Hiring a caterer for your office or corporate events helps to present your company as streamlined and efficient, elevating your company in your guest's eyes.
And letting a caterer take care of food and drinks for your private events will leave a lasting impression on your guests and allow you to sit back and enjoy the occasion.
3. Offer guests a variety of food, and get it out on time
You'll have access to a wider range of food by hiring a caterer than you likely would if you were handling it yourself. It can be challenging to cook for a group of people all with different likes, dislikes, and dietary requirements. Letting us plan, cook, and prepare the food for your event gives you the opportunity to provide a delicious variety of foods to satisfy everyone.
And here's a big one that not many people think about – you can't be everywhere at once. We know it's hard for a host to get everything out on time when you're trying to serve dozens or hundreds of guests on your own, all while trying to mingle and manage everything else.
Consider how much time, money, and energy you spend on catering your own event. Hiring a professional caterer is an excellent investment. Our professionally-trained and uniformed chefs and wait staff will look after your guests in style and on time, and will guarantee that your guests leave happy and impressed with you and your event.

4. Great atmosphere
A well-organised, structured, perfectly catered event will linger in your guests' memories for weeks, months, even years to come. Along with helping you choose the perfect selection of food and drinks, we'll take care of the logistics too, whatever the occasion.
And if you need help organising vendors and services such chair hire, flowers, music, decorations, and so on, we can help you coordinate it all.
5. Lower your stress levels
There are so many stresses that go with catering your own event. The frustration of being stuck in the kitchen while you organise this platter and that sauce, making sure everyone has drinks and napkins.
The sinking feeling when you find you're in too deep and you either have too many guests or not enough food.
The disappointment at the end of the night when you realise you haven't talked to your guests or danced to your favourite song or even have a glass of wine because there just hasn't been time.
And let's not even talk about the mammoth task that is cleaning up after an event.
Hiring a caterer can help you plan a memorable event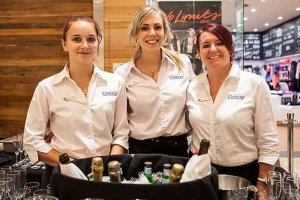 Think of hiring a professional caterer as a gift to yourself, an act of self-care. Our delicious menus, expert knowledge, attention to detail, and professionally trained staff will take your event to the next level and leave a lasting impact.
Contact us to discuss menu ideas or to book your event catering now.