22 years ago, while people were adjusting to the start of a new millennium, a fresh new business was born – Cherry's Catering and Events.
Excellence is the norm at Cherry's Catering and Events
Established by co-founders Craig & Kate Fraser and Deb Cunniffe, Cherry's Catering has been privileged to provide catering for hundreds of events over the years.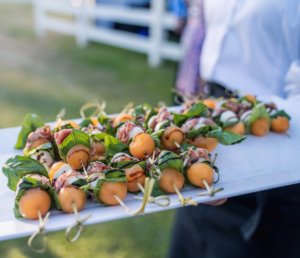 We are proudly family-owned and operated and located in a custom-built commercial production kitchen in Malaga, and our team consistently offers exceptional catering services to clients across the Perth area.
In February 2005 we were awarded the Gold Licence Accreditation, which was awarded to us by the Restaurant and Catering Association of WA (Inc) in recognition of meeting all FoodSafe standards.
We also hold a Special Facility Licence, having been approved back in 2007, which led to the introduction of Drinks Packages, to complement Cherry's food menus.
Highlights from the past 22 years
It's hard to pick just a few highlights from the past 22 years as they have been full of fun, development, and growth…
… but we'll give it a try!
Firstly, we need to acknowledge the disruption that Covid brought to our industry. While Covid was a speedbump no one saw coming, Cherry's Catering is proud to be experiencing substantial growth despite these challenges, and we are so pleased to see that the demand for our catering services is growing fast.
Community service during Covid
During the start of the pandemic, we quickly adjusted our services to help the community in the worst of times. We wanted to give something back in a way that would make us feel useful in a time when many of our catering events had been postponed so Cherry's Catering created and delivered complimentary meals to Frontline Healthcare Staff at hospitals around Perth.
Receiving the 'Hospo Hero' Award
In late 2020 we attended the Restaurant & Catering Industry Association awards night, which recognised local businesses in and around the community for their outstanding achievements. Cherry's Catering were invited to the evening to be recognised for the support given to the Perth Frontline during the COVID outbreak.
As owners of the business Craig, Kate, and Deb were excited and humbled to receive a 'Hospo Hero' Award!
Popular milestone birthdays 
While many milestone parties had to be cancelled or postponed in 2020, in 2021 we are noticing a trend towards some BIG celebrations!
At Cherry's Catering and Events, we LOVE catering for these big events, and over the past 22 years, our team has learned a thing or two about how to plan, set up, and enjoy a great party.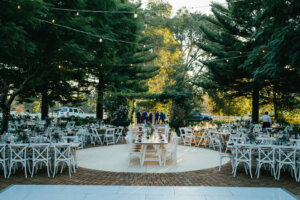 Our customers get to enjoy the build-up to their party and quality time on the night with their guests because Cherry's Catering is taking care of all the event catering, from set up to clear up!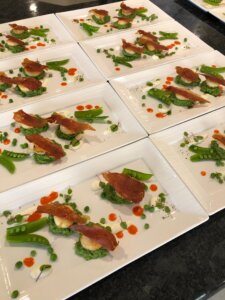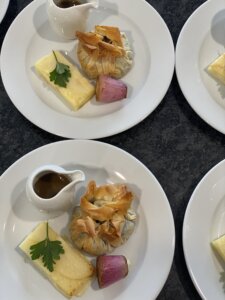 Some of our favourite recent milestone events include the New Year's Eve / 40th birthday party at a stunning rooftop venue, a milestone 60th Birthday celebration, and a Joint 50th celebration for these special twins… and we've also enjoyed several beautiful weddings in recent months.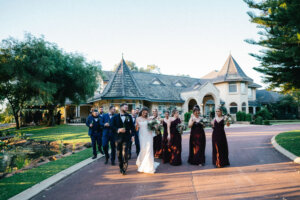 Adapting menus to cater for all events
We are seeing some menus, in particular, become really popular, including the Individual self-serve Cocktail Finger Food stations which are a common request post-Covid as clients are wanting to minimise contact, and Individual Lunch & Afternoon Tea Boxes which are perfect for contactless catering and quick service.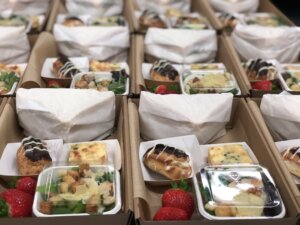 And, our reviews say it all!
Our reviews on Google, Facebook or WOMO say it all – as clients often appreciate the knowledge we have in being able to guide them when planning a private or corporate event. Clients can put their faith in us because after 22 years, we know the industry intimately and we are confident in advising people how to get the best out of their catering event.
We often enjoy catering for repeat clients
22 years within the hospitality industry shows we really know the industry well! More and more people are coming to us because of our experience and our friendly and easy-going customer service.
Don't know where to start? That's okay – clients often call not knowing the industry at all or where to start with their function. We know all the questions to ask to get the information from them to then put a quote together.
We often enjoy catering for repeat clients, such as the call we received this morning from a lady who used us 10 years ago for her 60th and is now booking us for her son's 30th!
These bookings make us feel warm & fuzzy inside and certainly remind us that what we do really makes a difference in helping people plan and enjoy great events.
Have you got a milestone birthday coming up? A corporate client event? Maybe you are wondering how to plan the perfect wedding?
Let the team at Cherry's Catering and Events guide you through, with menu ideas, supplier information, and a drinks package to compliment the food.
Contact us to discuss menu ideas or to book your next event!