With international travel off the cards for a while, we are noticing a trend towards some BIG celebrations!
And at Cherry's Catering and Events we say this is a great idea! If you are celebrating a big event such as a 30th/40th/50th/60th….or a wedding anniversary or baby shower…. it can be crucial to the success of the event to get the catering right.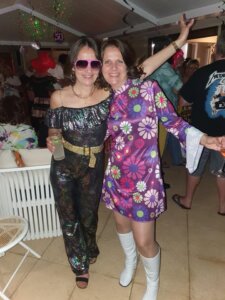 Recently, two of our own team members celebrated a special – and belated – milestone birthday.
That's right, Deb and Kate had to put plans of a 50th party on hold during Covid, but last week, wow, did they make up for the delay!
It was such a wonderful night of dancing and having fun, enjoying quality time with friends and family. And of course, Cherry's Catering and Events took care of all the food and refreshments, meaning the birthday twins could relax and enjoy their night.
What to look for with milestone event catering
From catering so many big events over the years, our team have learned a thing or two about how to plan, setup, and enjoy a great party.
So, enjoy the build-up to your party and on the night quality time with your guests while letting Cherry's Catering take care of the milestone event catering.
#1 Speak to us in advance to plan the menu
We can help you create the perfect menu by offering suggestions and advice based on what you want for the event.
You can adapt one of our existing menus or start your own menu from scratch. Our industrial kitchen and highly trained staff know how to plan, prepare, and serve 5-star food, all with the right feel and theme of the event.
We will take care of ordering in all the stock and all the equipment needed, and you will be able to choose what time the food is served by our professional wait staff, or choose from drop off platters.
Hot tip: Cocktail finger food service starts with cold canapes, then moves onto hot food – our suggestion is for a bigger bite to be added into the middle of service.
We can also supply cocktail desserts or we can cut & serve your birthday cake.
#2 Come in for a taste test!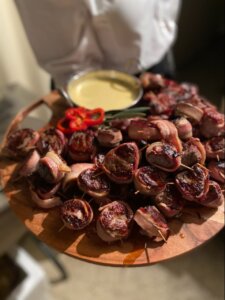 We want you to be 110% sure of the menu you've chosen. And we just love showing off our great food. So, when you are enquiring with us, ask us about popping in for taste testers – which is available on certain menu types.
This way, you can get really excited about your party in the weeks leading up to it…. And be on the lookout for your favourite foods on the night!
#3 Enjoy the experience of getting the professionals in to manage the drinks / bar service
We take care of everything (i.e. ensuring drinks are cold ready to serve, we also bring excess stock levels to cover all eventualities)
We can help you decide what drinks to serve – how much alcohol is needed. Why not add in a cocktail or two?
It's one less thing to worry about on the night, and certainly beats warm drinks from the esky. Our drinks packages are designed to delight your guests and add that extra special touch to make guests feel special.
#4 Let us take care of the extras
Need a cake? Chairs? Flowers? We work closely with some local businesses and we can recommend or put you in touch with fabulous local suppliers.
At Deb and Kate's party, the stunning cake was supplied by Tannika's creative cakes.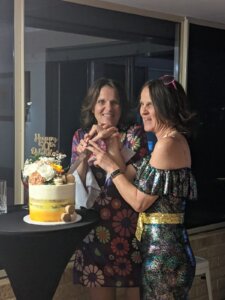 And we can confirm first hand, it was delicious.
#5 Relax knowing we are taking care of the workload and cleaning up
So, you've had a great night, enjoyed the party… and now you probably are not keen to clean up after all your guests, right?
Leave it to us. We will take away any equipment and clean up too.
Sound good? doesn't it?!
Book your milestone event catering
At Cherry's Catering and Events, we don't just serve the food. We help you create memories that you and your guests can look back on for years to come. Browse our delicious menus or contact us to discuss your milestone event.