Every event is unique.
Every event deserves great food.
And every event needs some careful planning to ensure guests are kept happy.
At Cherry's Catering and Events, we have menus to suit your function, whatever the occasion.
Work function? Client party? Private party? Wedding?
Not sure where to start or which menu style to select?
That's what we are here for, we have 20+ years of experience & can help guide you to create a show-stopping menu to wow your guests.  Let's take a closer look at the variety of catering menus to suit your occasion.
A menu of menus!
So, which type of menu can you choose for your next party or event?
Cherry's delicious Finger-food Catering Menus are ideal for milestone birthday celebrations, engagement parties, weddings, family gatherings, corporate luncheons, sundowners, team building, workshops, corporate Christmas parties and more.
You can choose from:
This is a great option for events where you really want guests to feel free to mingle, eat mouth-watering food, and have a variety of items on offer.
If people will be standing for most of the evening, tasty treats you can pop in your mouth are the best menu options as they are so easy to pass around.
Cherry's Roast/Buffet & BBQ menus can be personalised to suit your specific catering requirements.
The most economical way of buffet-style catering is our Drop-off Roast / Buffet or our Drop-off BBQ menus.
Alternatively, opt for our Gourmet Roast/Buffet or Gourmet BBQ, which includes crockery, cutlery, and napkins plus Cherry's Catering & Events professional uniformed staff to serve you and your guests in style.
Because both the Drop-off and Gourmet Roast/Buffet and BBQ range contain a wide variety of delicious items so you can easily please every taste bud in the group! It's important to the team at Cherry's that everyone gets to enjoy delicious food – regardless of dietary needs or preferences.
Cherry's Banquet Dining menu is popular with Wedding Catering and Milestone Celebrations.
This menu style can be tailored to suit your catering needs, with a wide variety of dishes to create your preferred menu.
You can enjoy a gourmet two or a three-course meal, with an option of pre-dinner canapés & cheese boards.
Drinks, glorious drinks.
Whichever type of menu you choose, you can add in a Drinks Package and really offer a full experience to your guests.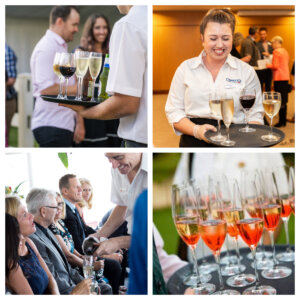 Under our Cherry's Liquor Licence, our drinks packages include an Approved Manager and Responsible Service of Alcohol certified Bar Staff.
Our current drinks packages include Cherry's house wine range (Cherry Wood) from the Southwest region of Perth which is a popular choice for both our corporate and private clients.
Other packages include wines from the Margaret River region.
If you are after a specific wine or from a certain region, simply ask, and we will accommodate.
Staffed catering versus no-contact menus
Are you looking for the full foodie experience, complete with wait staff and drinks servers?
Great! Choose one of our cocktail party packages or Gourmet buffet/BBQ style, which include Cherry's professional chef and wait-staff.
Alternatively, if you are keen for no-contact catering options, then our drop-off finger food menus and drop-off Roast Buffet and BBQ menus are perfect options for menus that can be delivered to your door ready to eat – no staff required.
Easy ordering and fantastic customer service
Here at Cherry's, we are here to help you create an unforgettable Catering experience!
We cater to ALL dietary needs and requirements while offering a professional service from our custom-built commercial production kitchen in Malaga.
With a Gold Licence Accreditation and a team that is obsessive about good food, you're in safe hands with us.
Need help choosing the perfect menu for your event?
That's what we are here for, we have 20+ years of experience in catering for events all over Perth.
Let the team at Cherry's Catering and Events guide you through, with menu ideas, supplier information, and a drinks package to compliment the food.
Contact us to discuss menu ideas or to book your next event!