Show stopper party
Cherry's Catering recently had the pleasure of providing custom catering for a pretty unique event!
Steve came to us with a grand and bold scheme to throw a surprise Hanger Party at Jandakot aero drome for his special lady's milestone birthday.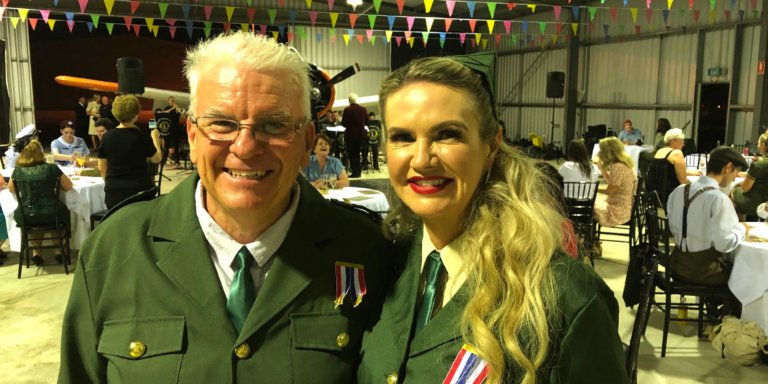 Because Steve likes to think outside the box, his ideas required a lot of planning, secrecy, and daring. As a pilot with his own planes and massive hanger he promised to put on a real show stopper of a party.
So, with vintage WW 2 planes as the backdrop, a 22-piece brass band playing all the classics and amazing dancers swinging to the rhythms, we certainly achieved a party with a difference!
Custom catering for unique Perth event
For our part we provided a bar and drinks all night. Steve set up a typical M.A.S.H. kitchen complete with camouflage netting.
Because Cherry's love planning custom catering we supplied an extensive canteen style buffet. Our 1940's style menu included sausages in onion gravy, bread and butter pudding and rice puddings.
The entire menu catered for a variety of dietary requirements, gluten free, lactose free, vegetarian & vegan, nut free. All delicious fare that had guests coming back for more.
And because Cherry's is so customer focused we even sourced Shani's favourite dairy free salted caramel gelato. We took care of everything from the food, service staff, tables, chairs, linen, drinks & bar staff, glassware.
Therefore Steve could focus on the rest and what a great partnership! The end result was well worth the effort.
Dress to impress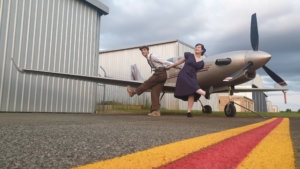 The effort Steve went to was exceptional and it really paid off on the night. He had thought of everything! From the band, the dancers, the table settings, the drinks, a pinball and games corner.
The overall decorating of the hangers, and finally the menu was very in keeping with the theme.
He thought of every detail down to the old siren to announce dinner!
What an absolutely brilliant event to be part of! Every guest was dressed to impress to their 1940's best and we were lucky enough to be invited to do the same.
Want to create an epic party of your own?
Steve had heard of us through word of mouth and I'm glad he chose Cherry's, what a great night with some great people.
Because at Cherry's everything we do is based around complete customer service and satisfaction and going the extra mile. We love creating unique catering ideas and planning custom catering for our clients. Thinking of making your next special occasion extra special, talk to the team at Cherry's.
Steve's review
Cherry's was recommended to me by a good friend in the building industry as they always cater for his functions.
I was staging an elaborate WW 2 themed hangar party in a large aircraft hangar at the airport with limited infrastructure.
I needed a special menu to cater for Gluten Free and Dairy Free guests but wanted the food to be representative of food available in the early 1940s.
Cherry's worked to recreate a great menu which fitted the theme.
They arranged everything, food drinks, staff, tables and chairs.
I had one simple bill to pay and they did the rest – including their staff dressing up in costume to suit the theme of the party.
They arrived on time, were set up ready to go well before guests arrived and left the premises clean and tidy.
The guests loved the food of which there was plenty and the drinks service was just as good.
Their service and attention to detail was first class and I have no hesitation in recommending them.