If you want to create a truly bespoke event, then read on. Whether it's a wedding, baby shower, work event, client event, funeral, graduation or birthday party, Cherry's Catering and Events create and serve gourmet catering for luxury events.
Our customised food & beverage menus suit anyone wanting to host an event – but take it to the next level.
Create an event to be remembered, for all the right reasons!
The team at Cherry's Catering and Events love helping to plan and organise the most stylish and memorable events.
For those of you that believe if you're going to host an event, you may as well do it right, we can help – as we agree wholeheartedly! The key is to think about engaging all the senses – sound, sight, touch, and taste – to really WOW your guests.
Last December we catered for a joint birthday party – 3 milestones all in 1 – it was something truly special.
And it was made extra special because the hosts really wanted to wow their guests, so they planned it well, and sourced suppliers that would bring their idea to life.
Memorable events with private catering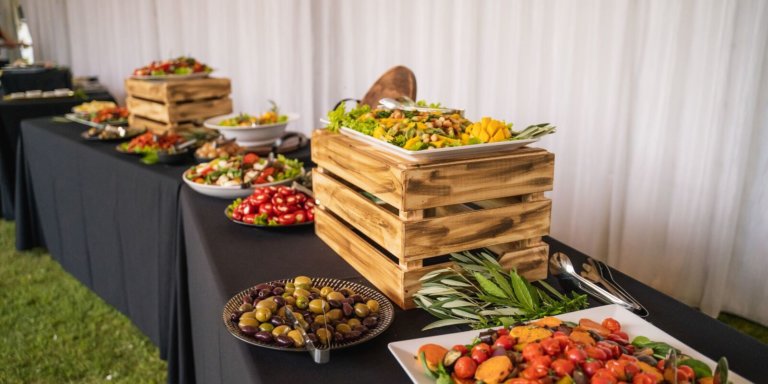 A luxury and memorable event always stands out from the rest. If you dream of hosting the crème de la crème of Perth events, we'll help make it happen.
You and your guests can enjoy an event dripping with style and sophistication.
Gourmet catering for luxury events
Here is your chance to surprise and delight your guests by serving fabulous food and drinks.
Choose from bite-size canapès, alternate plate dinner, or a buffet style meal.
Top it off with a decadent dessert, and make sure you include champagne, cocktails, and mocktails.
With Cherry's, you'll get 5-star catering and a professional drinks service. Yes, that's right – Cherry's can not only serve up the tastiest food, our drinks license means we can also provide a drinks service.
Beyond the food and drinks, it's worth choosing carefully when it comes to staging, flowers, music, and cake. For the huge December event we catered for, we partnered with some fantastic local suppliers:
Marquee Magic @marqueemagic
Furnishings by Carlisle Events facebook.com/carlisle.events.hire
Cakes by @tannikas_creative_cakes
Music by @adamhallmusician
Top tips for a terrific event
So, to summarise, here are our top tips for creating a wonderful event:
Consider what mood you want to set for the event – then plan the lighting, the food, the drinks around this theme – it all plays into that elusive feeling of glamour.
Play to people's senses and emotions – serve food that is packed with flavour and style; plan personalised gifts or treats that will delight; have music that sets the tone and either lifts the mood or keeps it calm.
Choose suppliers you can trust and who have great portfolios – many offer samples, and at Cherry's we offer a taste test for some event types.
Select the right type of food – would the event best suit canapès or a sit-down meal? Do you need to cater for dietary requirements? Cherry's Catering can advise you on all of this, don't worry!
Have you planned for enough drinks? Will it be a day or evening event? Do you need to consider alcohol-free options? Kids drinks? Again, Cherry's Catering will help you work all this out.
Book your catering with Cherry's!
Elegance, grandeur, and style – for an event with a difference, Cherry's are here to help. We provide gourmet catering for luxury events. We can help the guests feel special – and make sure you as the host feel proud.
Contact us to find out more menu ideas or to book your catering.